Get Brilliant Barbeque Cleaning in London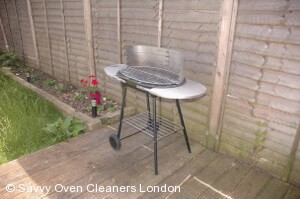 The invitations are out, the food and drinks are bought, the lawn is cut. But you forgot about your barbecue cleaning in London at the end of last summer - you're not the first person and you won't be the last! The rain came in and you rushed off to finish the party indoors. You meant to clean the BBQ but winter arrived. Now you're faced with last years baked-on grease, and the thought of cleaning it off is almost enough to put you off your get-together. That would be a shame when there's such a simple solution to the problem!
Enjoy a BBQ Cleaning Service That Keeps Your Food Healthy
Book our BBQ cleaning service today and get a convenient appointment right away. We'll get you ready to cook in the shortest time possible, and enjoying a wide range of bonuses too:
You'll prolong the life of your BBQ with our professional cleaning service
Power consumption will be reduced as a clean BBQ takes less time to heat up
You'll have much more free time to enjoy the tastier food prepared on your clean barbecue
No waiting time required, you can use your BBQ right away after we've finished cleaning it
Our reasonably priced service is available 7 day a week, just take a look at our prices page
Added peace of mind because we're a fully insured cleaning provider
About Our Expert Barbeque Cleaning
The team uses effective and professional barbecue cleaning degreaser that is not available to buy over the counter, so you can count on our powerful and environmentally friendly products to cut through grease and caked-on grime with no problem at all, leaving your barbecue hygienic and spotless. A professional cleaning will extend the life of your BBQ, make your food taste even better and even cut down on your energy consumption, as a dirty barbecue will take longer to heat up.
Your Great, Green Grill Cleaning Team!
The cleaners arrive with environmentally friendly degreasers to complete your grill cleaning, so your work is completed with solvents that are child friendly and pet friendly but still powerful enough to give you excellent results on your grates. We select the employees with as much care as we select our detergents, so expect them to be people-friendly, polite, considerate and dedicated to giving you the best service possible. Find out what past customers have to say about our work by reading our testimonials page.
Awesome Barbeque Grill Cleaning in the Blink of an Eye
Booking our barbeque grill cleaning services can be done with one phone call! Your call on 020 3404 2255 will be answered by our customer service team, whether it's day or night. It doesn't matter to us what time it is, we're here to make you happy! Or, why not start a chat using our online chat facility or fill in our contact form to receive a prompt reply?
Before you make a booking you must agree with our Cleaning Services Terms and conditions.